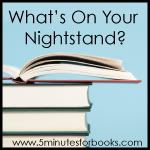 So what is everyone reading these days? I have heard rave reviews about Twilight, The Story of Edgar Sawtelle, The Namesake and many other good picks. Right now I am inbetween books and find that sitting still long enough to actually read has been difficult. But with holiday break coming up I need to find something that is really good!! My picks for break:
The Fairacre Series by Miss Read (have heard that this series is very Mitford-esque)
The Story of Edgar Sawtelle (currently am reading this one-it's good!)
The Magician's Son (the first in the Wardrobe series)
Harry Potter and the Chamber of Secrets (Mom's Rocking Readers next pick)
I'd love to hear some other suggestions!!!!