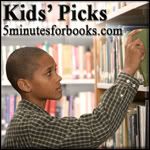 I'm sure my kids (my 7 year old twins and the 5 year old) would be the first to tell you that their current favorite books are the Captain Underpants series. I'm not sure if they are really the best reading material (yep, they are FULL of bad potty humor) , but my son has been an engaged reader for the past 2 weeks and I am thrilled to see him reading!!
Our family does a morning book club called "Mom's Rocking Readers". I initially started this to cut down on morning crabbiness and it has turned into a really special part of our day. Our book club has finished the first Harry Potter book and we are currently reading book number 2 :Harry Potter and The Chamber of Secrets. Our members are ages: 9, 7, 7, 5, 4, 35, 37. Everyone above the age of 4 participates by reading at least a paragraph aloud and we do try to get a chapter done every 2-3 days. This book has been slower but we have had a lot of sickkies and we haven't been able to read every day. Nonetheless, it is a great book and we are all looking forward to watching the movie when we are done!
My 5 year old is enamored by the book : Velma Gratch and the Way Cool Butterfly and my 4 year old LOVES the Good Dog Carl series.
I get so excited when I see them reading-it is one of my favorite things to do as well!!!