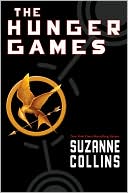 On the recommendation of a good friend, I picked up this young adult book that I have heard a lot about. I wasn't sure if I would like it, but hey....why not? Let me put it this way, if I had to choose between this book and the Twilight series,
The Hunger Games
would get my vote. The book is set in the future-the main character Katniss lives in the country of Panem (good bye North America). After the rebellion, the Capitol has divded Panem into different Districts, and each year to remind the people of their naughty behavior each District must provide 2 children to participate in the annual Hunger Games. Now obviously there is some fantasty to this story but if you can get past vampires and werewolves you'll be fine! The story reminds me of Stephen King's
The Running Man
-a story about survival and the lengths that a person (in this case a little girl) will go to in order to survive. I really did enjoy the book-while it pales in comparison to
Harry Potter
, I would give it a thumbs up for young adults and adults alike!